Career (Netherlands)
Name:
HNLMS de Ruyter
Laid down:
16 September 1933
Launched:
11 March 1935
Commissioned:
3 October 1936
Fate:
Sunk by torpedo in the Java Sea 28 February 1942
General characteristics
Class and type:
De Ruyter-class light cruiser
Displacement:
6,545 long tons (6,650 t) (standard)
Length:
170.9 m (560 ft 8 in)
Beam:
15.7 m (51 ft 6 in)
Draft:
5.1 m (16 ft 9 in)
Installed power:
66,000 shp (49,000 kW)
Propulsion:
3 × Parsons geared steam turbines
6 × Yarrow boilers
2 × shafts
Speed:
32 kn (59 km/h; 37 mph)
Range:
6,800 nmi (12,600 km; 7,800 mi) at 12 kn (22 km/h; 14 mph)
Complement:
435 max
Armament:
7 × 150 mm (5.9 in) guns (3x2; 1x1)
10 × 40 mm (1.57 in) Bofors anti-aircraft guns (5x2)
8 × 12.7 mm (0.5 in) Browning machine guns
Armor:
Belt: 5 cm (2.0 in)
Deck: 3 cm (1.2 in)
Turrets: 3 cm (1.2 in)
Aircraft carried:
2 × Fokker C-11W floatplanes
Aviation facilities:
1 × catapult
HNLMS De Ruyter was a light cruiser of the Royal Netherlands Navy, the lead ship of her class. She was originally designed as a 5,000 long tons (5,100 t) ship with a lighter armament due to financial problems and the pacifist movement. Later in the design stage, an extra gun turret was added and the armor was improved. She was the seventh ship of the Dutch Navy to be named after Admiral Michiel Adriaenszoon de Ruyter.
De Ruyter was laid down on 16 September 1933 at the Wilton Fijenoord dockyard in Schiedam and commissioned on 3 October 1936, commanded by Captain A. C. van der Sande Lacoste.
[edit]
Service history
During World War II, De Ruyter saw repeated action in the Dutch East Indies in fruitless attempts to ward off the Japanese invasion. She was damaged by air attack in the battle of Bali Sea on 4 February 1942, but not seriously. She fought in the battle of Badung Strait on 18 February.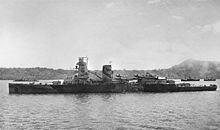 In the Battle of the Java Sea on 27 February, De Ruyter was the flagship of the Dutch Rear-Admiral Karel Doorman, with his flag captain Eugène Lacomblé (who had previously served on board the ship as a lieutenant). Off the north coast off Java on the evening of the 27th the remains of the ABDA fleet was surprised by the Japanese heavy cruisers Nachi and Haguro. De Ruyter was hit by a single Type 93 torpedo fired by Haguro at about 23:30, and she sank at about 02:30 the next morning with the loss of 345 men, including Admiral Doorman and Captain Lacomblé. Her wreck was found after the war and declared a war grave, with only the ship's bell—now in the Kloosterkerk in the Hague—being recovered.
[edit]
References
[edit]
External links
Coordinates: 5°58′55″S 112°3′57″E / 5.98194°S 112.06583°E / -5.98194; 112.06583